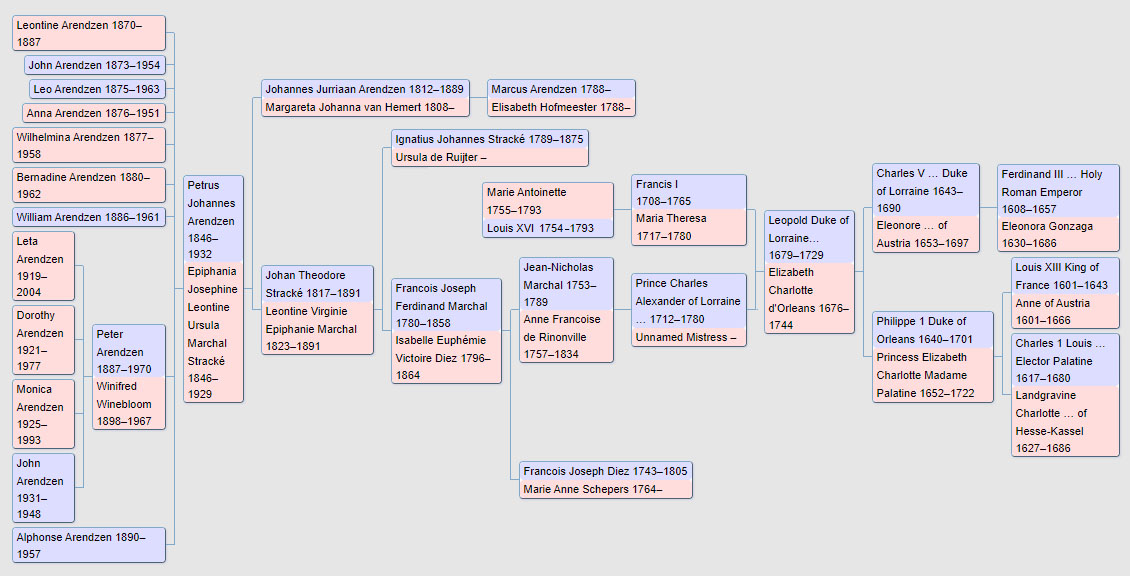 Click the above image to enlarge or view an interactive tree here .
The family had always claimed a connection with French nobility (usually citing Marie-Antoinette) and there appears to be a line of descent that can be traced back to King Louis XIII of France, Ferdinand III of Germany and beyond. The connection to Marie-Antoinette would have been her uncle, Charles Alexander of Lorraine. Anne Françoise de Rinonville and Marie-Antoinette were cousins.
One connection that did need close scrutiny was that of Prince Charles Alexander of Lorraine, who had many children with a string of mistresses. Some are named, like Elisabeth de Vaux but others remain anonymous. He was known to have fathered a daughter, Anne Françoise de Rinonville , who married Jean-Nicolas Marchal. This is a key link in the line of descent which otherwise appears to be quite straightforward.
There is an interesting entry in Wikipedia that sheds a little more light on Charles Alexander's private life:
"Though there is obscurity about his private affairs after the death of Maria Anna, it is known that from his mistress Elisabeth de Vaux, Charles had a son Charles Alexandre Guillaume Joseph, and a grandson through the same; a stillborn daughter by an unnamed mistress; a son Charles Frédéric by an unnamed mistress; a son Jean Nicholas and a daughter Anne Françoise by an unnamed mistress, and an unnamed daughter through a mistress named Regine von Porthenfeld."
N.B. The static tree above gives a simplified overall view but every Arendzen and Stracké biography links to a personalised interactive tree.